Wimbledon Common is home to the oldest cross­country running club in the world and forms the foundations of a truly remarkable sporting history setting a precedent for running across the world. In December 1867 a group of rowers from the Thames Rowing Club decided that they wanted to keep fit during the winter months and organised a 2.5 mile steeplechase on Wimbledon Common. This race became the first organised cross­country event to take place in Britain. More races over the next few months followed, which evolved into a paper chase. With the paper chase proving popular, early members went on to found the first crosscountry club in October 1868 called the Thames Hare and Hounds Club (TH&H). Matches continued against different clubs occasionally over the next nine years. The use of paper trails was banned on Wimbledon Common in 1879 followed swiftly by the formation of the England Cross­Country Association in 1883.
Although TH&H continued to race and enter runners in prominent races, such as the 1896 Olympic Games, it was not until the club joined the England Cross­Country Association in 1923 (40 years after it was formed) that it began competing regularly in competitive leagues. From this point the club quickly rose up the rankings and began the journey of establishing itself as one of the leading running clubs in the country. With the decades that followed, many TH&H members went onto to write sporting history, most famously with Roger Bannister running the first four­minute mile in 1954 and Chris Brasher founding the London Marathon in 1981. These members who trained and ran many races on Wimbledon Common paved the way for professional long­ distance running that we know today.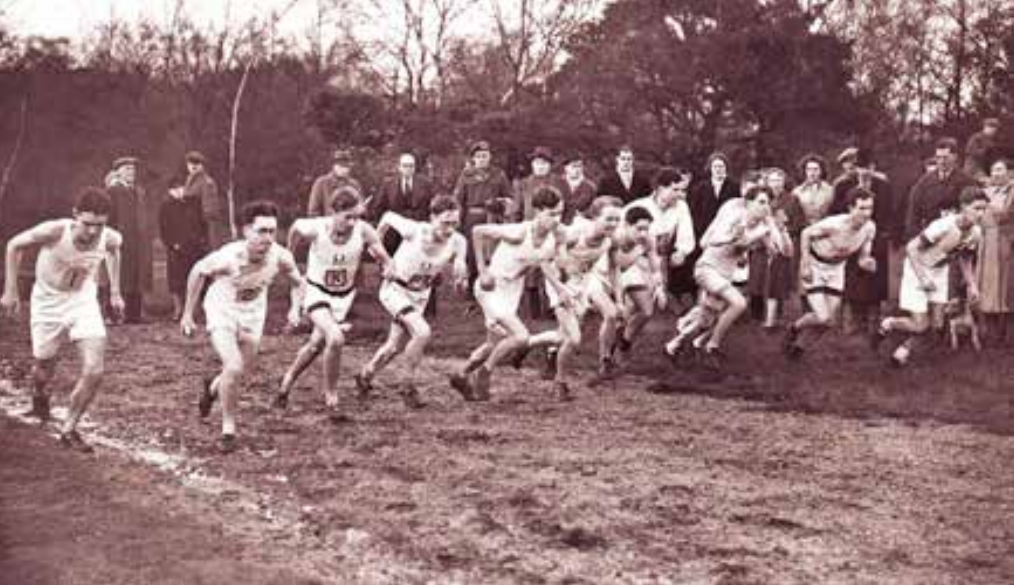 "You might have seen lots of people running on the Common here; lots of people. Let me tell you, this is where it all started… Members of Thames Hare and Hounds set a precedent for running, not only in Wimbledon, for England, but world wide – all the joggers, New York and London Marathons they all come back to the Thames Hare and Hounds. This has been going on for well over a hundred years, and in that time some very famous people, in fact three of the people who took place in the very first four­minute mile­ Roger Bannister, Chris Chataway and Chris Brasher. They were all members of this club, they all took part in this race and they were all winners."
John Bryant, Former Captain, Thames Hare & Hounds
Running Today
TH&H is still located on Wimbledon Common to this day and is arguably the leading men's marathon club in the country. The club also has a strong ladies team that regularly competes for the top positions in the leagues. The first London Marathon held in 1981 had 6,747 runners; in 2012 37,500 runners took to the streets to compete in the 32nd London Marathon making this one of the world's largest. Long­ distance running falls into numerous race disciplines today, including 5,000 metres, 10 kilometres, half marathon, marathon, cross­country and many more.
Today, long­ distance running is undoubtedly one of the most popular mass participation athletic events across the globe and one of the most popular track and field events. Medium­ distance events are equally as popular which include the 1,500 metres, 2,000 metres and 3,000 metres. There are countless opportunities for people of all ages to get involved in running across Wimbledon and the surrounding areas within Merton. Running offers many health benefits whether competing professionally, deciding to run for a cause close to your heart or run just for fun. Take a look at the local opportunities available to you and you could be next running sporting champion from Merton.
"I think what people sometimes forget about running is that it is the most natural thing to do. We are designed mechanically and physiologically to walk then run in a straight line that way. Some of us can do it fast, and some of us can run for a long time with more endurance and we all fit into that spectrum somewhere. The first time I went to the Olympics I was nineteen and I was just happy to be there… The next time you go you're trying to win a medal, and then maybe the next time you're trying to win the gold medal, so it changes depending on where you are in your career, how you approach something like that. But the principles don't change from when you're trying to win the English Schools' title to when you're trying to win the Olympic Games title."
Steve Cram Former World Record Holder in 1,500 and 2,000 Metres.